After working for nearly 1yr..This was the 1
st
vacation I used off my leave for it. Look like I seem like a workaholic:-D But frankly I'm not.. I most treasure my weekend. Don't wanna waste any single minutes.. Try to spend the 2 days, 48hrs that 100% belongs to me.
The most difficult post for this was picking up which are the best pics I can post in here. Making it short and lets the photos to do the talking :-)
My vacation start on 31st August, my country National Day. The most peek day that ppl are going for holiday. I got two Konsortium bus ticket 2 week earlier to avoid any disappointment :-) Meyer and I were only taking 1 bag each other when going:-P Weather was quite cloudy and not too hot..This was what I hopping as most of the time, I'll spend on Bkt Bintang..
My journey begin on 8.30am from Sg. Nibong Bus Terminal.. The condition of the bus was great, comfortable, clean and most important of all, the air cond worked! :P Second, the bus only stop twice..Once for bio-break, second I think the bus driver stop ½ way changing ppl to take over..I think most probably will be swift shift of working :-S hehe The journey is quite smooth although that was a super peak season.. Jam only start when reaching KL Central. We need to walk quite a distance from Pudu due to all busses are queuing to enter the terminal platform.
1st thing to do there was getting a taxi to our Fortuna Hotel..Traditionally I alwiz trust Chinese driver..As a result, I go up with a driver that drops us near KFC after ~10 min of journey. RM10 still reasonable I think..I just notice "The Ship" dinning was only there..But if you are a Penangite, you should prefer our Bt Ferringgi instead although I haven't try it before..
Reach hotel lobby and check in..Have a quick rest then take our lunch..Wow..Is around 1.30pm when we check in!!

Standing in front of Menara KL

Satay with 3 roll rice & keropok Traditional Nasi Lemak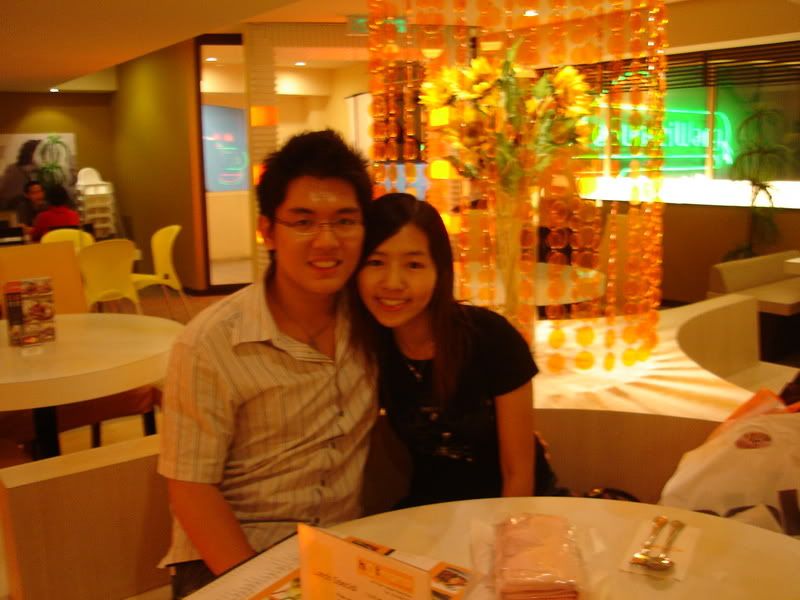 Meyer n I take some sticker photos too. So far I have seen in many shopping complex, Sg Wang is the largest DIY Photos Machine that you can take with different kinda view, alots of design u may select. The shop even loan you the Japanese kimono, Korean hanbok garments.


Japanese Kimochi & Korean Hanbok


Besides, you may add a lot of different "add-on" to your photos. Background even can be change with different curtains with the machine we took. Not so bad actually RM24. 1 token for RM2. Photo cutting table, scissors and lamination service also provided :-D
The quality of pictures are really good. Thumb up!



By the time we walk back to Hotel..Here is what we spot..which ocasionally we taught is only a garment boutique as what we seen in PG... SEED Cafe.. (", Wow ",)